Ninety-eight percent of DTU Hospitality graduates find jobs immediately, which is a testament to the high quality of education and why the university welcomes greatly increasing numbers of applicants every year.
Collaborations that meet international standards
According to the National Administration of Tourism (Ministry of Culture, Sports and Tourism), the three-year average (2016-2019) growth of the Hospitality sector is 22% and Vietnam is one of the top ten countries with the fastest growth worldwide. Eighteen million foreign visitors arrived in 2019 and the 2020 objective is 20.5 million, plus an additional 90 million domestic tourists.
Just ensuring a sufficient quantity of Hospitality staff to satisfy this increasing requirement is essential but not sufficient, because their quality and professionalism must also be improved significantly. However, DTU has developed diverse Hospitality majors over the years to meet such requirements, including:
-
Tourism & Hospitality Management
-
Tourism & Travel Management
-
Events & Entertainment Management
-
PSU Tourism & Restaurant Management
-
PSU Tourism & Hospitality Management
-
PSU Tourism & Travel Management
-
Troy Tourism & Hospitality Management.
DTU has collaborated with Pennsylvania State University (PSU), one of the five leading universities in Management and Hospitality, to share and provide advanced, new and effective international education programs, and with Troy University to implement a Tourism & Hospitality Management program in Vietnam for an American degree. The university also partners with other well-known universities in the US, the UK and South Korea and with Vietnamese hospitality companies to develop foreign partnerships, overseas exchanges and global internships.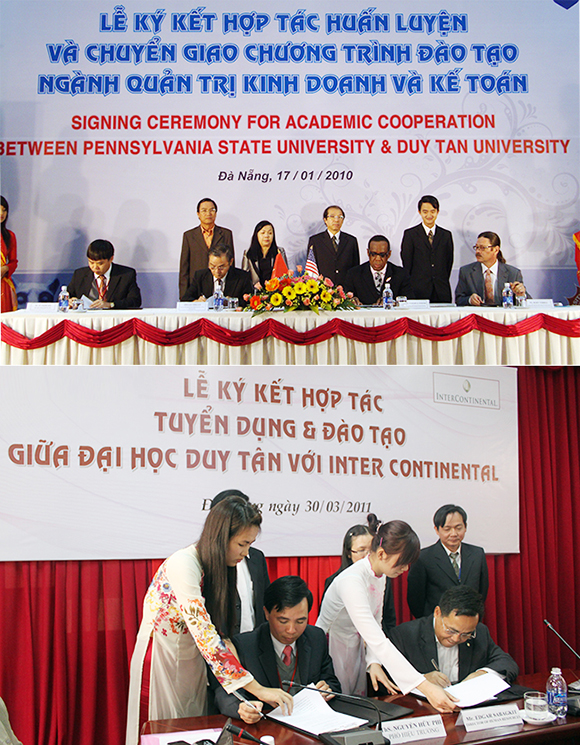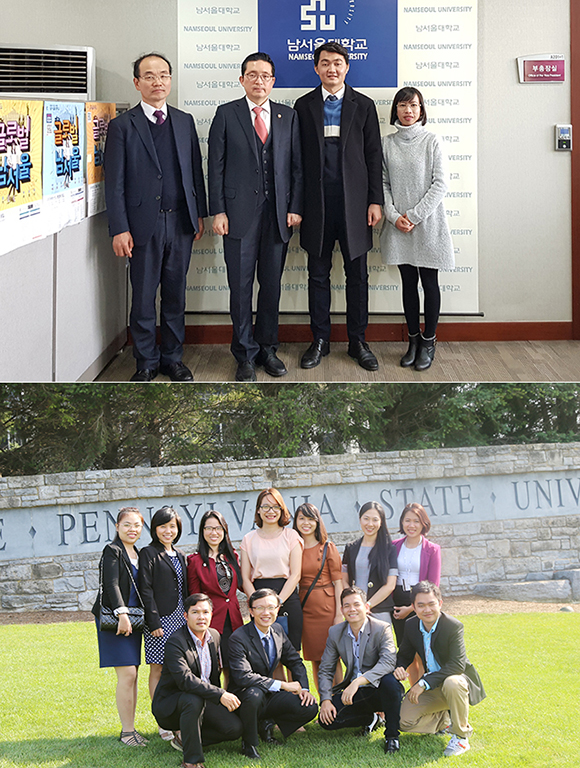 Hospitality staff and lecturers train at Namseoul University in South Korea, above, and at PSU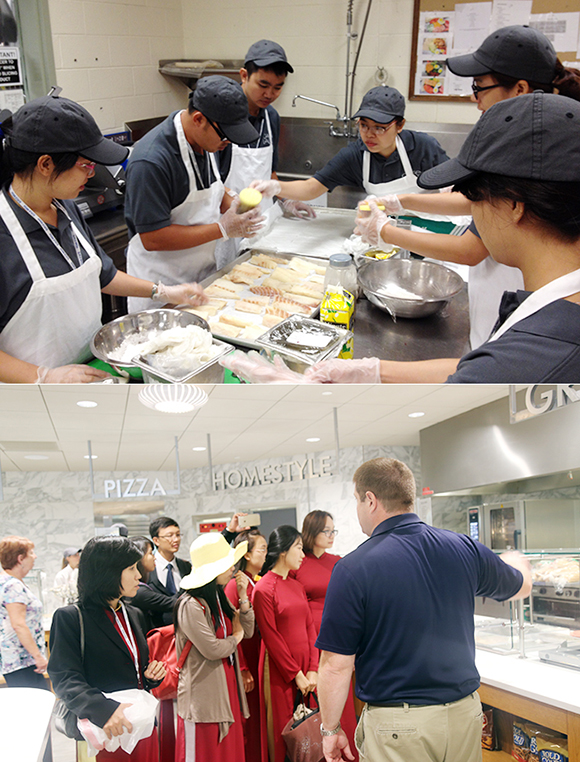 Groups of DTU hospitality lecturers learn about food processing and go sightseeing at PSU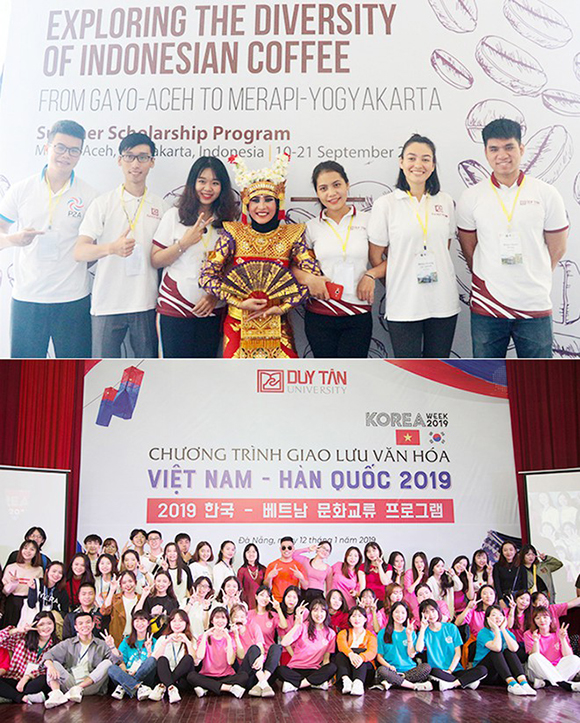 Multi-cultural exchange programs for hospitality students
Three-star training facilities
DTU has constructed a system of practice rooms to prepare Hospitality students for real world situations in:
All equipment meets 3-star hotel standards and a Mini-Hotel is located at 59 Ha Bong allowing students to practice in a real hotel.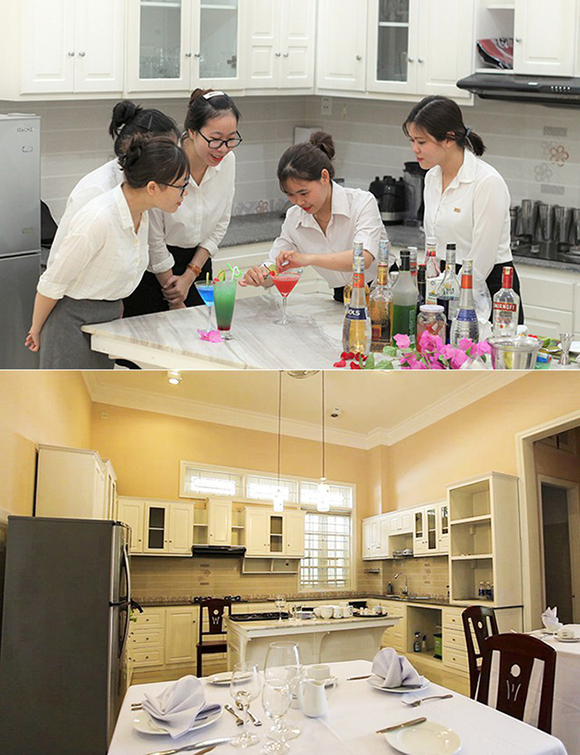 Hospitality students practice at the Mini-Hotel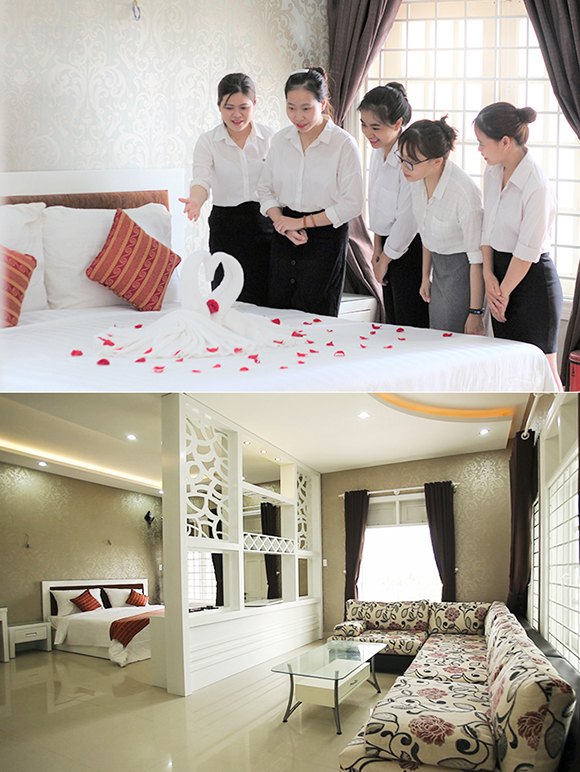 Mini-Hotel is located at 59 Ha Bong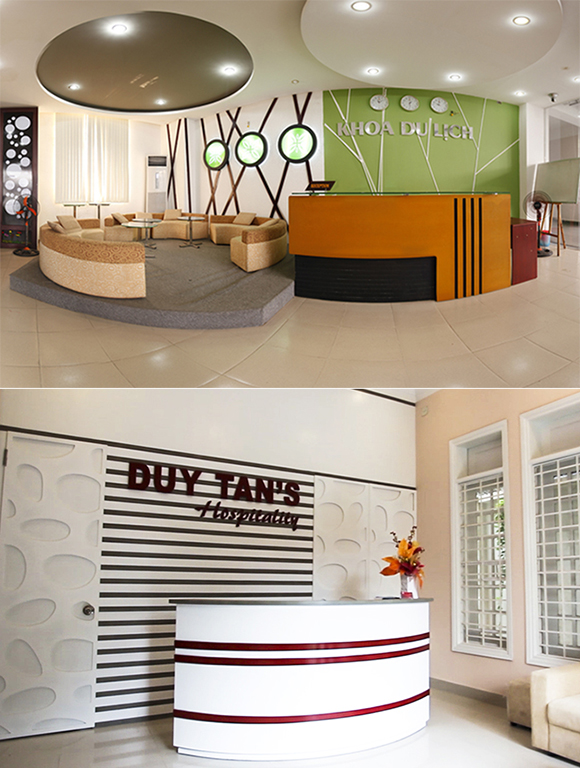 Reception practice rooms
DTU students experience an international-level work environment
DTU has created new and attractive Hospitality training and work opportunities by increasing partnerships with companies at home and abroad. With their excellent English and professional skills, DTU students have been able to go to South Korea on student exchanges, been selected for paid internships in Thailand and Singapore or found employment with local companies on graduation.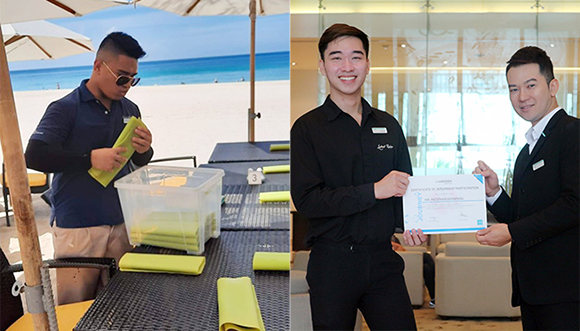 Nguyen Chi Bao, at left, is doing a paid internship at Le Meridien Phuket Beach Resort, Thailand, Pham Vu Phong, center in combined picture, is working at Le Meridien Chiang Mai in Thailand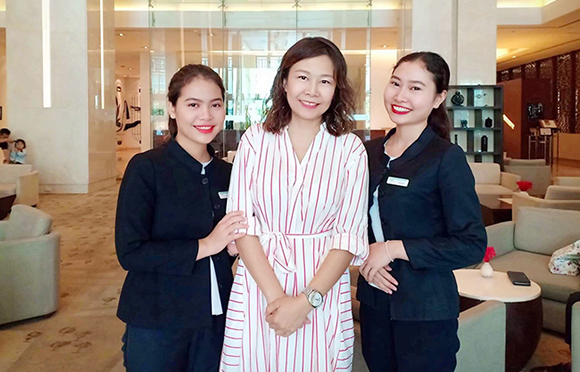 Dinh Thi Ngoc Huyen, left, and Vo Truc Quynh, right, who are doing paid internships at Le Meridien Chiang Mai in Thailand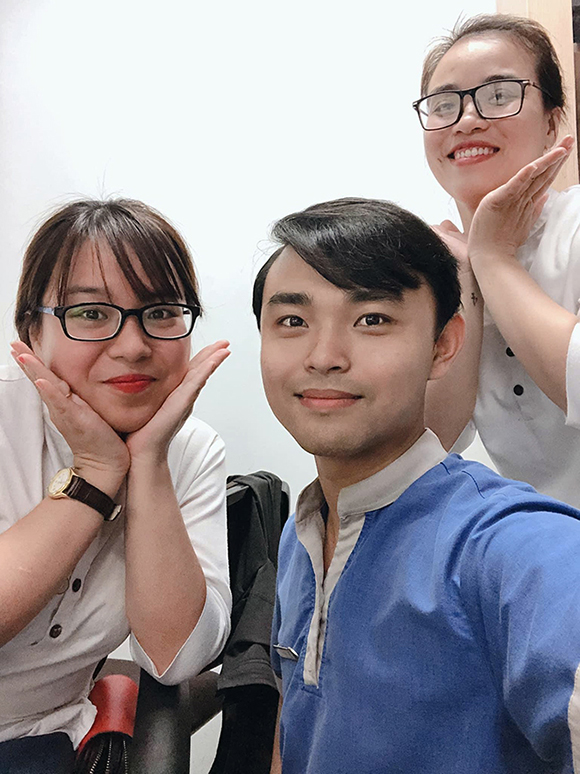 Tran Doan Cong Thanh, in blue shirt, graduated from DTU in Tourism & Hospitality Management PSU standard and currently works as Training Rooms Manager at the Four Seasons Nam Hai Resort.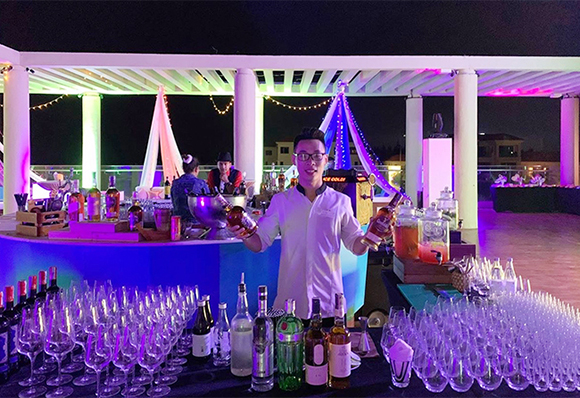 Ngo Viet Tien is studying Tourism & Hospitality Management at DTU and working as Food and Beverage Attendant at the Sheraton Grand Danang Resort.